The Supreme Court of Nepal (SC) has issued an order to the government to easy supply of oxygen for the treatment of those infected with the corona virus. SC also ordered to bring well-equipped hospitals into operation. A single bench of Justice Bam Kumar Shrestha issued an interim order.
Supreme Court ordered to easy supply of medicines, to easy supply oxygen required for the treatment of corona infected. It ordered to bring more resourceful hospitals into operation, to supply manpower and to the hospital as per the pressure of patients.
The Court has considered the petitioner's demand for an interim order, that the subject matter demanded from the petitioner has an immediate direct bearing on the life of the person.
Therefore, in view of the ever-increasing number of infected people in the hospitals directly concerned with the problem of emergency supply of essential medicines and oxygen. It is necessary to take necessary steps to operate these well-equipped hospitals. Facilitate the supply of essential medicines and oxygen. It directed to immediate arrange manpower as per the pressure of patients in hospitals.
Importantly, Apex court ordered to formation of the Action committee with participation of the stakeholders for the management of these things that have a direct bearing on the lives of the citizens. And to solve the all problems in the effective manner related the corona pandemic.
Advocate Shailendra Prasad Ambedkar and Advocate Mohana Ansari have joint filed the writ petition against Federal Government and Provincial Governments of Province no. 1, Porivince no.2, Bagmati, Gandaki, Lumbini and Sudurpaschim.
They demand for oxygen, medicine, hospital and manpower management as it is directly related to the life of the citizen.
The writ petitioners also demanded to vaccinate to all citizens of Nepal. They also demands to take action against government officials, who creates the hassles for supply of vaccine and other health materials.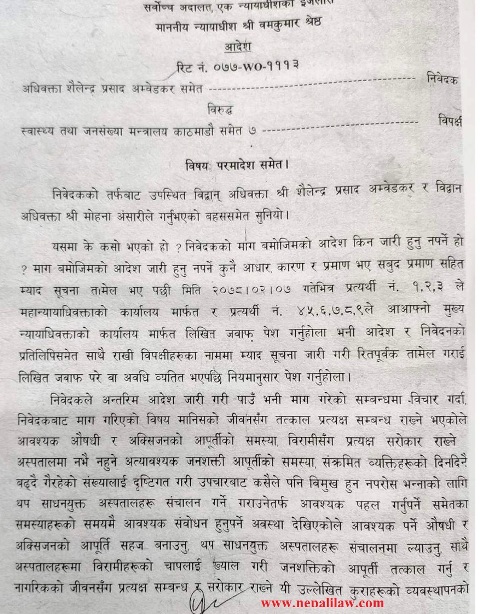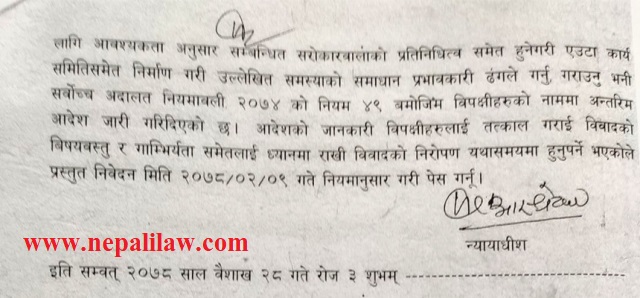 Daily wage earners are again reluctant after the Lockdown in Corona Pandemic
After the lockdown and restriction in the several part of the country daily wage earners again become jobless. They have worry about what to eat in the morning and evening.  The many people in the city seeking for shelter wherever night falls.
Even though, one the wager said that I don't have a person vehicle to go home. There is no public transport on top of that. Even the contractor ran away from the place of work without paying.  It means to die without food.